Wattage Live Wire
By Irv Cooper
Nick Named Fire Belle in my Case (See Design Scheme)
Converted to Brushless 010 Geared 2:1 with MPI Gear Box (see Gear Article)
Graupner Carbon 8X6 Folder & 10 5/4 Nimh cells
I bought this on impulse while out at the San Diego Mid Winter Electrics. I had been flying my Wattage Crazy Max extensively and this plane looked nicer and was based on that plane.
What I did not do was look in the box, I thought the Fuse was a molded plastic or glass, instead it is one larger chunk of white foam all pre shaped. But that leaves only the space under the red plastic cowl and deck to put your components. The 5/4 Nimh AAA's were the only batteries I could fit in and the plane is a tad heavier than the Crazy Max. Another down side is that the wing is glued in permanently which makes it harder to pack with when I travel.
So initially I was pretty disappointed. But now that it is done, it is a very nice plane and flys better than the Crazy Max and is much more aerobatic mainly do to the larger control surfaces and the fuse is deep enough that knife edge is possible. With the above setup I get about 8 minutes of great flight.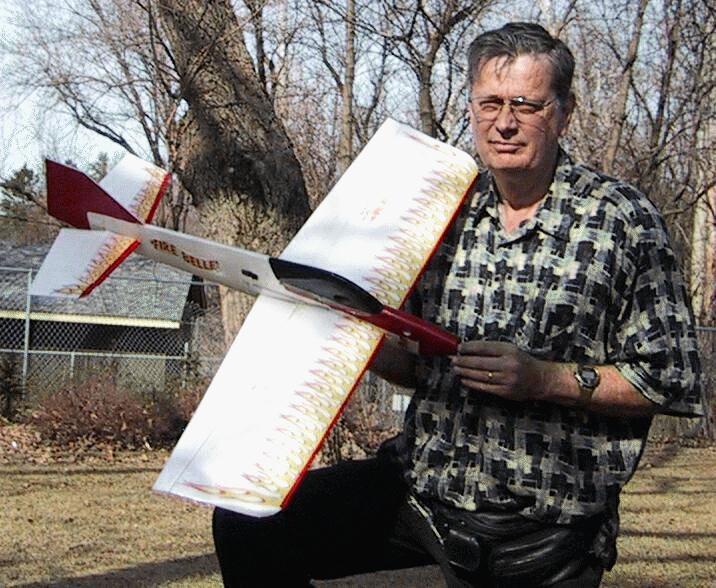 The graphics are all mine, and they took longer to do than to assemble the plane. I designed up the flames and logos and transferred it to the plane via home made water slide decals. I am pretty proud of the them.
Another item I am proud of is the motor mount I contrived which has now become my standard for the Astro 010 (See Motor Mount Article)